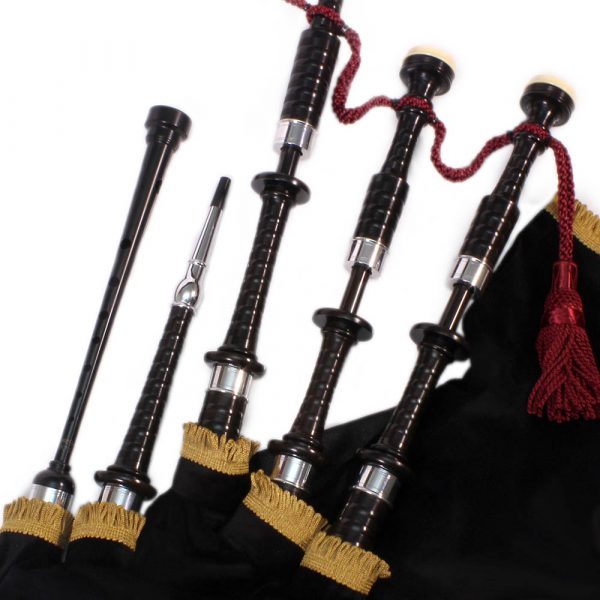 Product Details
| | |
| --- | --- |
| Brand | |
| Bagpipe Warranty | |
| Material | |
| Metalwork | |
| Projecting Mount Material | |
| Projecting Mount Size | |
| Made In | |
| Finish | |
| Ferrules | |
| Slides | |
| Ring Caps | |
| Pipe Chanter | |
| Blowpipe | |
In Stock now and ready to ship!
MacRae SL1 Bagpipes by McCallum & Stuart Liddell
Brand: MacRae Bagpipes by McCallum
SKU
:

SL1
The Duncan MacRae SL1 model has a simple, refined look, with Blackwood projecting mounts, alloy ferrules, and imitation ivory ring caps. The MacRae series of bagpipes are reproductions based on Stuart Liddell's own rare set. McCallum precisely replicated Stuart's antique instrument, down to the different sized tenor tops. Although made by McCallum, MacRae sets are tonally distinct, with a stronger bass sound and a uniquely blended drone effect. This is a modern vintage instrument suited to a champion. Made in Scotland by McCallum.
Features of the MacRae SL1 Bagpipes:
Fully combed and beaded African Blackwood
Blackwood projecting mounts
Alloy ferrules
Middle tenor top ferrule is marked with an "M"
Imitation ivory ring caps
Brass-lined Blackwood blowpipe
McCallum Polypenco pipe chanter
Unique serial number in bass top cord groove
Authentication tag signed by Stuart Liddell
Why Choose Henderson's?
You'll receive a ready-to-play bagpipe, built to support your success. We include a complete modern set up with special touches, like a premium bag cover with zipper access and a crisp-looking end closure. We'll make sure your bagpipe fits you, professionally install the components you choose, and play the finished instrument to ensure you're delighted. It's all part of our Bagpipe Promise and Inspection Checklist. Have questions? We're here to help!