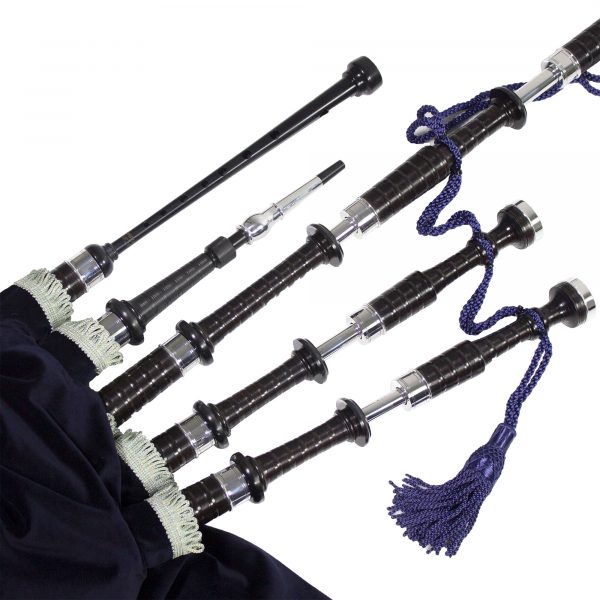 Product Details
| | |
| --- | --- |
| Brand | |
| Bagpipe Warranty | |
| Material | |
| Metalwork | |
| Projecting Mount Material | |
| Projecting Mount Size | |
| Made In | |
| Finish | |
| Ferrules | |
| Slides | |
| Ring Caps | |
| Pipe Chanter | |
| Blowpipe | |
In Stock now and ready to ship!
McCallum AB1 Deluxe Bagpipes
Brand: McCallum Bagpipes
SKU
:

AB1D
You can see why McCallum AB1D Bagpipes are the #1 customer favorite. The wood and metal create a beautiful contrast. Plus, McCallum AB1D pipes sound the same as the most expensive McCallum model, so you're getting a professional-quality instrument. The super-tough plastic projecting mounts won't chip, and they blend perfectly with the wood. These durable mounts also have alloy medallions, a signature McCallum touch. You don't have to worry about tarnished metalwork because the aluminum alloy resists tarnish and is not plated. For comfort, the AB1D comes with an adjustable Poly blowstick, so you can adjust the length. Made in Scotland.
This Set Is Upgraded!
We've added a matching adjutable blowpipe to the McCallum AB1D bagpipes  as a free upgrade for you. In addition, our bag covers are made from quality fabrics and trims in the UK and have a Zip and a Grip, to match the integrity of the instrument. You won't need to replace a flimsy cover after buying your pipes. And the pipe bag has a zipper, too!
Why Choose Henderson's?
You'll receive a ready-to-play bagpipe, built to support your success. We include a complete modern set up with special touches, like a premium bag cover with zipper access and a crisp-looking end closure. We'll make sure your bagpipe fits you, professionally install the components you choose, and play the finished instrument to ensure you're delighted. It's all part of our Bagpipe Promise and Inspection Checklist. Have questions? We're here to help!