Congratulations! If you're here, you're looking for new bagpipes. Choosing an instrument that suits you is a lot of fun. If you have the guidance of a band or instructor, you may know just what to choose. If not, we're here to help.
What Do You Like?
An easy first step is to browse styles by brand or in our online showroom to see what you like. You'll have a connection with your personal instrument, and you may want the bagpipe style you choose to express something about you.
Bagpipe Parts
Highland Bagpipes all have the same main parts. 5 stocks attach to the pipe bag. The bass and tenors drones fit into the drone stocks. A blowpipe with a mouthpiece fits in the blowpipe stock. And the pipe chanter goes in the chanter stock. We bring bagpipes in from the maker as "sticks" and assemble them with your selected components to become a playable instrument. The bagpipe needs a pipe bag, a bag cover, drone cords, drone reeds, and a pipe chanter reed.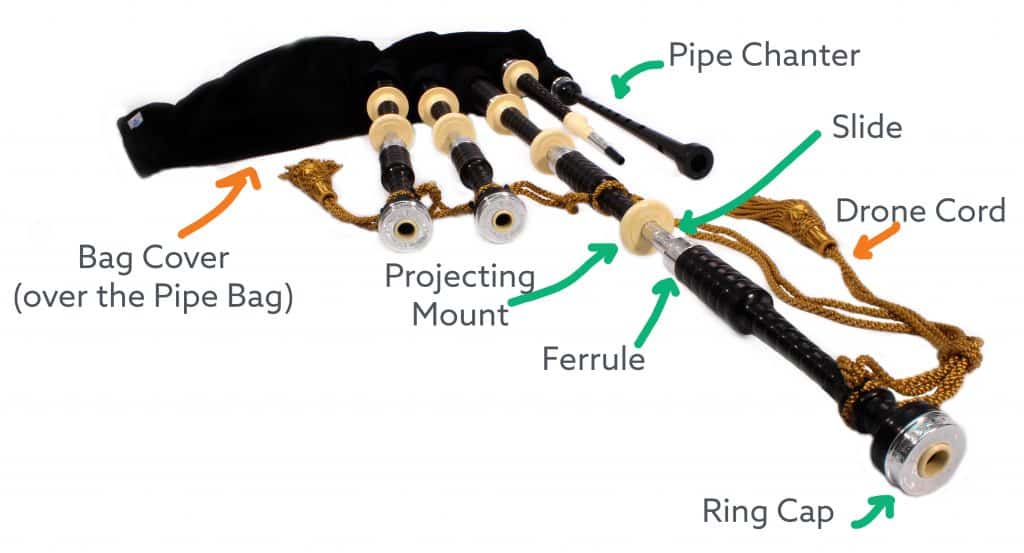 Bagpipe Styles
You can choose from lots of looks and materials when selecting your bagpipe. You might be drawn to something fancy, with lots of engraving. Or you might prefer something simpler. Within a range of bagpipes–McCallum Blackwood, for instance–all the bagpipes will sound the same. Yes! The simplest-looking Blackwood set sounds just the same as the most ornate. That's a lot different than shopping for guitars! Whichever set you choose, you'll get a professional-quality, performance-ready bagpipe.
Combed and Beaded v. Plain-Turned
Combed and beaded bagpipes have the rounded bands and lines you see on most bagpipes. They are made with tools, while the part is on the lathe. Plain-turned bagpipes are mostly smooth.
Decorative Elements
You'll see that bagpipe styles use different materials to create different looks. Blackwood, Mopani wood, nickel, aluminum, Sterling Silver, imitiation ivory, and imitation horn are a few popular materials. The metal might be plain or engraved.
Ferrules – Metal or wood pieces, metal pieces may be engraved
Projecting Mount – These are the disc-like pieces that stick out on the drones and blowpipe. They can be standard large mounts, smaller mounts, or little button mounts. They may be imitation ivory or horn, wood, or metal.
Tuning Pin/Slide – The tuning pin may be plain or may be covered by a metal slide, with or without engraving
Ring Cap – These are at the ends of the drones. They can be metal, imitation ivory, or even wood.
Blowpipe/Blowstick – This is the part that has the mouthpiece. It is important that this piece fits you. Some sets come with adjustable blowpipes. We ask for your height, in part, to make sure we install the correct blowpipe length for you.
What Investment Is Right for You?
The good news is that all of the bagpipes we stock are quality instruments that will support your piping. That's really important. Poly bagpipes are a popular starting point. They look like traditonal bagpipes, are super-durable, and sound great. Some pipers move to Blackwood later, keeping the Poly set for parades and bad weather. Blackwood bagpipes do have more refined sound and look beautiful. If you plan to compete or are purchasing your lifetime set, Blackwood is the way to go.
Selecting Components
We have a great default set up on all bagpipes and everything is assembled and tested. You can change or upgrade components, and any price changes will be reflected. Our most popular upgrade is moving from a synthetic pipe bag to a hybrid bag, which is easier to control and more comfortable to hold. Your band or instructor may have recommendations about bag size, drone reeds, or other selections. If you're not sure, just call or chat online with us.
Buying Bagpipes for a Kid
Piping products have come a long way. There are many things we can do to set up bagpipes for a young, growing child that will help make the instrument comfortable. From small pipe bags to shorter adjustable blowpipes, we can install components that will help the student be successful. Some young people start on Poly bagpipes, but a Blackwood instrument is still the best choice if the child is serious and plans to compete. Blackwood instruments require just a little more care, but caring for an instrument is an important aspect of musicianship.
Second Bagpipes
1 in every 3 bagpipes we send out is a Poly set. Often, these are second sets that pipers want to use for parades and other gigs. It's comforting to know your heirloom set or competition set is not out in the rain, snow, or getting jostled around in a pub.
Sometimes, the second set is a Blackwood or Poly bagpipe setup in B Flat. If you're playing regularly with a Celtic group, a church organist, or a marching band, it's easier to have a separate B Flat set ready to go.
Have Questions?
Buying bagpipes is a big step. There's a lot to think about. We would be so glad to talk with you! Just call 1-800-931-5010 or click the chat icon.