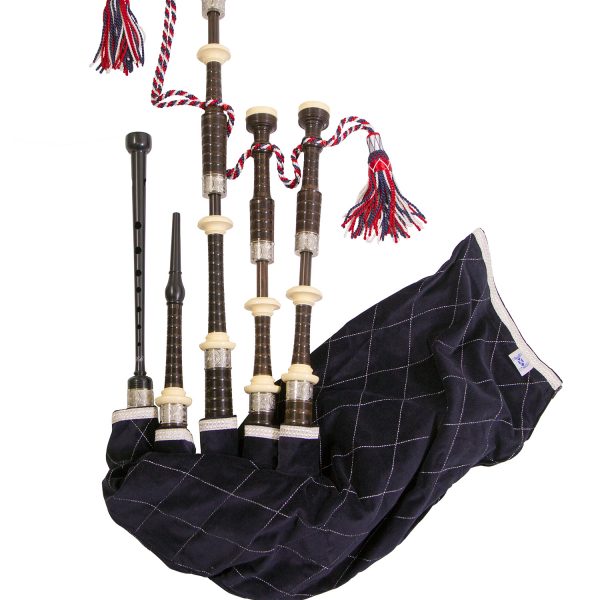 Product Details
| | |
| --- | --- |
| Brand | |
| Bagpipe Warranty | |
| Material | |
| Metalwork | |
| Projecting Mount Material | |
| Projecting Mount Size | |
| Made In | |
| Finish | |
| Ferrules | |
| Slides | |
| Ring Caps | |
| Pipe Chanter | |
| Blowpipe | |
Item is not in stock. It will be shipped when available.
Peter Henderson Limited Edition Bagpipes
Brand: RG Hardie & Peter Henderson
SKU
:

RGPHLEC
Working with RG Hardie, we designed the LE set to deliver style, sound, and maximum value. Engraved nickel ferrules accent imitation ivory mounts and ring caps. The projecting mounts are made with a special refined profile that sets them apart from standard Peter Henderson models. An integrated plastic lining protects the Blackwood blowpipe and blowpipe stock from the effects of moisture. Each instrument has a unique serial number on the bass stock. Peter Henderson bagpipes are rooted in tradition: they are crafted by the experienced makers at R.G. Hardie, which has ties to the original Peter Henderson Ltd, established in the 19th century. They are also played by top soloists and in Field Marshal Montgomery Pipe Band. Made in Scotland.
Watch the video to hear Peter Henderson pipes with our standard setup:
Performed on a PH2 model.

Why Choose Henderson's?
You'll receive a ready-to-play bagpipe, built to support your success. We include a complete modern set up with special touches, like a premium bag cover with zipper access and a crisp-looking end closure. We'll make sure your bagpipe fits you, professionally install the components you choose, and play the finished instrument to ensure you're delighted. It's all part of our Bagpipe Promise and Inspection Checklist. Have questions? We're here to help!