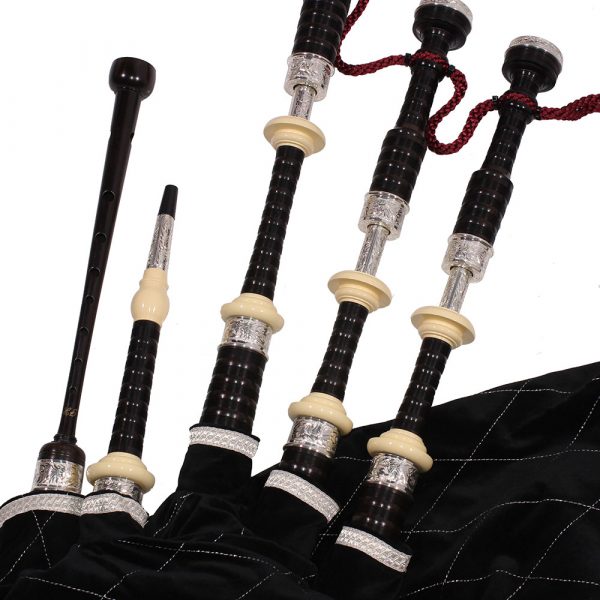 Product Details
| | |
| --- | --- |
| Brand | |
| Bagpipe Warranty | |
| Material | |
| Metalwork | |
| Projecting Mount Material | |
| Projecting Mount Size | |
| Finish | |
| Ferrules | |
| Slides | |
| Ring Caps | |
| Pipe Chanter | |
| Blowpipe | |
Item is not in stock. It will be shipped when available.
Peter Henderson PH5 Bagpipes with Hand-Engraved Silver – Thistle
Brand: RG Hardie & Peter Henderson
SKU
:

PH5HT
Peter Henderson PH5 Bagpipes with Hand-Engraved Thistle Silver
This model combines impressive Peter Henderson sound with extraordinary hand-engraved silver ferrules, slides and ring caps. The hand engraving emphasizes the Thistle pattern and adds a richness to each piece. This is supplied with a Peter Henderson Blackwood pipe chanter with a chanter case and reed protector. Each instrument has a unique serial number on the bass stock. Peter Henderson bagpipes are rooted in tradition: they are crafted by the experienced makers at R.G. Hardie, which has ties to the original Peter Henderson Ltd, established in the 19th century. They are also played by top soloists and in Field Marshal Montgomery Pipe Band.
Why Choose Henderson's?
You'll receive a ready-to-play bagpipe, built to support your success. We include a complete modern set up with special touches, like a premium bag cover with zipper access and a crisp-looking end closure. We'll make sure your bagpipe fits you, professionally install the components you choose, and play the finished instrument to ensure you're delighted. It's all part of our Bagpipe Promise and Inspection Checklist. Have questions? We're here to help!