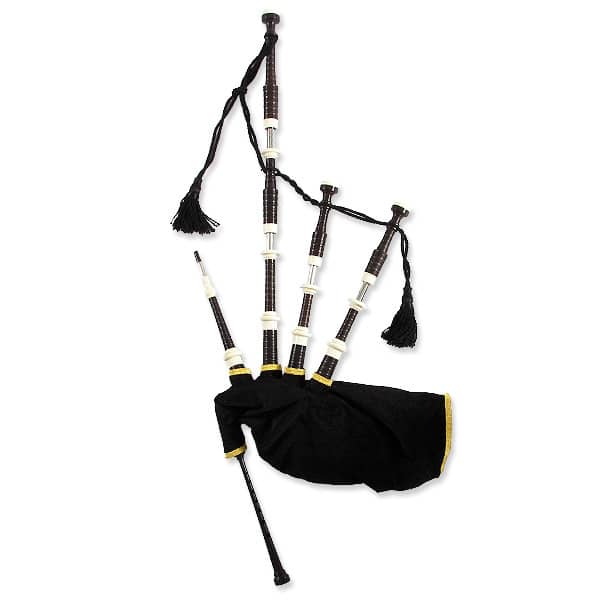 Product Details
| | |
| --- | --- |
| Brand | |
| Bagpipe Warranty | |
| Material | |
| Metalwork | |
| Projecting Mount Material | |
| Projecting Mount Size | |
| Made In | |
| Finish | |
| Ferrules | |
| Slides | |
| Pipe Chanter | |
| Blowpipe | |
Item is not in stock. It will be shipped when available.
McCallum AB3D Deluxe Bagpipes
Brand: McCallum Bagpipes
SKU
:

AB3DP
McCallum AB3D African Blackwood Bagpipes
The AB3D has lots of imitation ivory that lends a traditional feel and metal accents that add some shine. The aluminum alloy metal resists tarnish and is not plated This model comes with an adjustable Poly blowstick that allows for a comfortable custom fit and is safe from moisture damage. Blackwood blowsticks are available by special order. Made in Scotland.
Features of the McCallum AB3DP Bagpipe:
Fully combed and beaded African Blackwood
Imitation ivory projecting mounts with alloy plates
Imitation ivory ferrules, ring caps, and bushings
Alloy tuning slides
Alloy mouthtube with imitation ivory bulb
McCallum Polypenco adjustable blowstick
McCallum Polypenco pipe chanter
Standard Set-Up Includes Top Quality Components:
Bannatyne synthetic pipe bag with zipper
EzeeDrone synthetic drone reeds
Deluxe velvet bag cover with zipper and silk drone cords
Brand name pipe chanter reed
All bagpipes are professionally set up, tested, and shipped securely
The base price includes this suggested setup, but you can customize your pipes by selecting styles, sizes, colors and brands from many options. Choices may change the Customized Price of the pipes. If you'd like any help with your choices, just call, chat, or email.