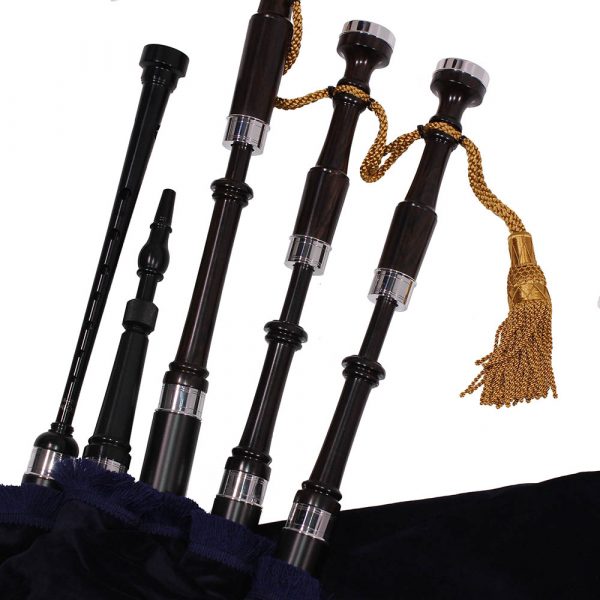 Product Details
| | |
| --- | --- |
| Brand | |
| Bagpipe Warranty | |
| Material | |
| Metalwork | |
| Projecting Mount Material | |
| Projecting Mount Size | |
| Made In | |
| Finish | |
| Ferrules | |
| Slides | |
| Ring Caps | |
| Pipe Chanter | |
| Blowpipe | |
In Stock now and ready to ship!
McCallum Student Edition with Blackwood Drones
Brand: McCallum Bagpipes
SKU
:

ABS-SE
We commissioned this special instrument to bridge the gap between Poly sets and Blackwood models. The drones on the Student Edition are Blackwood, plain-turned to show off the wood grain. Small "classic" Blackwood mounts, and alloy ferrules and ring caps, create a ;nice profile and simple style. The blowpipe, chanter, and stocks are Poly, preventing cracks in these moisture-sensitive bagpipe parts and reducing production costs. Made in Scotland.
Features of the McCallum Student Edition Bagpipe:
Plain-turned African Blackwood drones
Polypenco drone, chanter, and blowpipe stocks
Small Blackwood mounts
Beaded alloy ferrules and ring caps
Poly adjustable blowpipe for perfect fit
McCallum Polypenco pipe chanter
Made for Henderson's
Why Choose Henderson's?
You'll receive a ready-to-play bagpipe, built to support your success. We include a complete modern set up with special touches, like a premium bag cover with zipper access and a crisp-looking end closure. We'll make sure your bagpipe fits you, professionally install the components you choose, and play the finished instrument to ensure you're delighted. It's all part of our Bagpipe Promise and Inspection Checklist. Have questions? We're here to help!