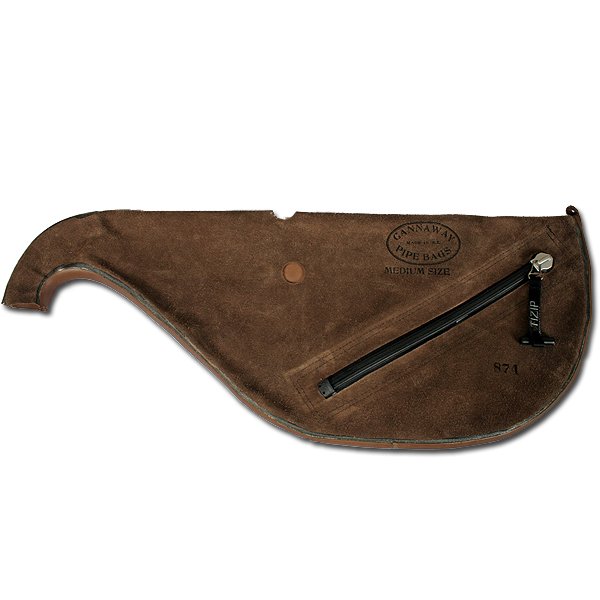 Product Details
| | |
| --- | --- |
| Brand | |
| Made In | |
| Installation | |
| Bag Access | |
| Pipe Bag Material | Hide |
Product availability varies
Gannaway Hide Pipe Bags with Zipper
Brand: Gannaway
SKU
:

GZ
Gannaway Zipper Hide Pipe Bag with Pre-Cut Holes
Gannaway zipper bags combine the best of two worlds. With this version of the popular Gannaway pipe bag, you get the benefits of a hide bag, like moisture control, more balanced feel, and greater control over stops and starts. Plus, it has a zipper, so you can install moisture control products and drone valves, as well as easily dry out and care for the bag. The bag is all hide and has pre-cut holes for easier tie-in. Gannaway's Highlander Pipe Bag Dressing (sold separately) should be used with this bag and promotes moisture control. Made in New Zealand.
Features of the Gannaway Hide Bag with Zipper:
Cowhide leather
Tanned with special formula that promotes moisture control
Comfortable shape with swan neck
Double-glued seams
Angled airtight T-zip zipper
Includes leather primer, length of tie-in cord, zipper lubricant, and instructions
2-year warranty
Available in 5 Sizes (Approximate Dimensions)
Small - 9.5" x 25.5"
Extended Small - 9.5" x 28"
Medium - 10.5" x 26"
Extended Medium - 10.5" x 28"
Large - 11.5" x 28.5
The standard Medium is slightly small, relative to Medium in other brands. To fit the Ross Canister System comfortably with this bag, select the Extended Medium)
Note:
After priming, the bag will need to be dressed with Gannaway's glycerin-based Highlander Pipe Bag Dressing - Available Separately.