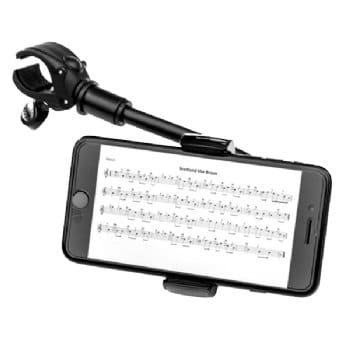 In Stock now and ready to ship!
Piper's Advantage Bagpipe Phone/Tuner Mount
SKU
:

PABPM
Piper's Advantage Bagpipe Phone Mount
The phone mount allows you to safely attach your phone or other small device to your blowpipe (or chanter) stock, so you can read music and view tuning apps, while you play. The flexible arm gives you the perfect viewing angle and stays put. A cushioning strap is included to protect your blowpipe stock, and a web strap can also be used with the phone to more securely grip larger phones. The design is sturdy and functional. In addition to mobile phones, the mount fits small Korg Metronomes and tuners, and Blair BBT bagpipe tuners.
Features of the Piper's Advantage Bagpipe Phone Mount:
Use to read see music or tuners on your phone, while playing
Phone cradle
Flexible arm with clamp and ball joint
Silicon web strap
Cushioning pad to protect blowpipe stock