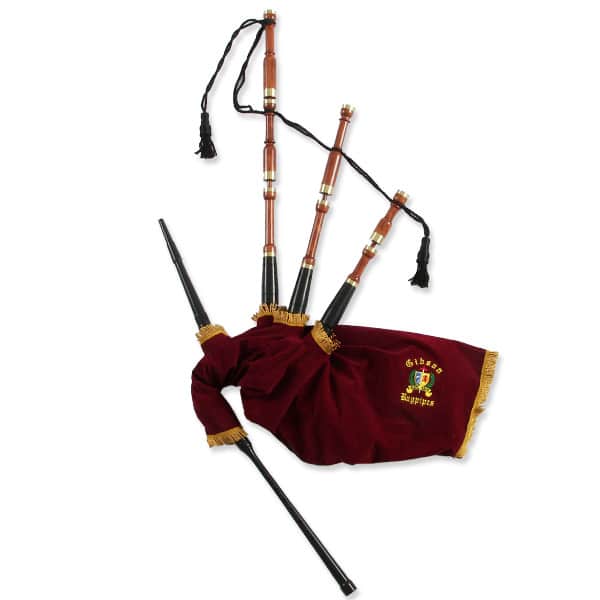 Product Details
| | |
| --- | --- |
| Brand | |
| Made In | |
| Smallpipe Type | |
| Key | |
| Drone Style | |
| Drone Material | |
| Drone Configuration | Bass, Baritone, and Tenor |
In Stock now and ready to ship!
Gibson Cocobolo Firesides in "B flat" – 2 Models
Brand: Gibson Bagpipes
SKU
:

R103 in B
Gibson Cocobolo Fireside Pipes in B Flat
The Firesides are our top-selling smallpipes and have earned this title for their appearance, ease of maintenance, quality tone, and overall value. The chanter on "B flat" Firesides has spacing most similar to that of the practice chanter, which makes for an easy transition. A baritone drone, instead of a second tenor  adds another dimension of sound. Each drone can be shut off by turning the stock to help with tuning. Made in the U.S.A.
Choosing a Key: The "A" Firesides are most compatible with guitars, fiddles and whistles. So if you're thinking about playing in a group, the "A" is your best choice. The "A" chanter has a slightly wider finger spread on the lower notes than the "B flat."
Features of the Gibson Firesides:
Wood drones for optimum sound
Durable Poly stocks and blowpipe
Poly chanter
Easy individual drone shut-off
Synthetic pipe bag
Full set of long-lasting plastic reeds
Bag cover (color as supplied by Gibson)
Silk cord (color as supplied by Gibson)
Choose from Plain Cocobolo and Cocobolo with Brass
Change the key: Purchase an "A" Firesides chanter and reed set, and you'll have an "A" set, too
Your Fireside pipes will come set up and ready to play!