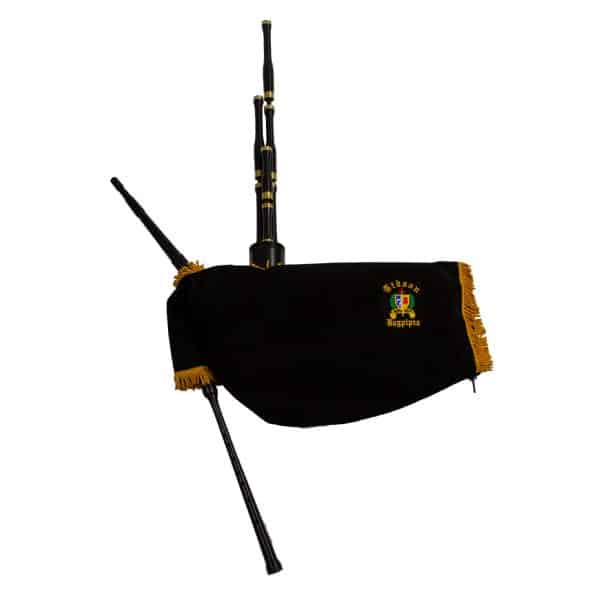 Product Details
| | |
| --- | --- |
| Brand | |
| Key | |
| Drone Material | |
| Drone Style | |
| Made In | |
| Smallpipe Type | |
| Drone Configuration | Bass, Baritone, and Tenor |
Save to Compare
Quick Comparison
Settings
Gibson Ceilidh (Kay-Lee) Pipes in A - Poly

remove

Peter Henderson Heritage Bagpipes with Boxwood and Antique Thistle

remove

Shepherd S2 Bagpipes

remove

Wallace Classic 4 Bagpipes with Engraved Nickel - Dot Knot

remove

Wallace Classic 5 Bagpipes with Engraved Nickel - Dot Knot

remove

RG Hardie Poly P01 Bagpipes with Infinity Chanter

remove

Name
Gibson Ceilidh (Kay-Lee) Pipes in A - Poly

remove

Peter Henderson Heritage Bagpipes with Boxwood and Antique Thistle

remove

Shepherd S2 Bagpipes

remove

Wallace Classic 4 Bagpipes with Engraved Nickel - Dot Knot

remove

Wallace Classic 5 Bagpipes with Engraved Nickel - Dot Knot

remove

RG Hardie Poly P01 Bagpipes with Infinity Chanter

remove

Image
SKU
KL3-POLY
PH1HT
S2
WBC04EM-DK
WBC05E-DK
RGHP01
Rating
Price

$

1,049.00

$

1,749.00

$

1,349.00

$

1,649.00

$

1,749.00

$

949.00
Stock
Availability
In stock
In stock
In stock
In stock
Add to cart
Description
Content

Gibson Poly Ceilidh (Kay-Lee) Pipes in A 

Ceilidh pipes are known for great sound, trusted reliability, worry-free stability, and a fun playing experience. Add Poly durability, and this smallpipe is an easy choice for any player. The Ceilidh pipes have a traditional smallpipe design, with a tenor, a baritone, and a bass drone extending from a common stock. With all double-blade plastic reeds, this instrument does not need moisture control, keeping the system stable and simple. The drones are positioned across the piper's front. Made in the U.S.A.

Features of the Gibson Poly Ceilidh Pipes:

Full sound, pleasant volume

Key of A

Poly drones (bass, baritone, tenor)

Poly chanter

Brass accents on the drones
Poly blowpipe
Synthetic pipe bag (one size fits all)
Reliable plastic reed set
All double-blade, practice chanter style reeds
No moisture control required

Bag cover (color supplied by Gibson)

Peter Henderson Heritage Bagpipes

The Heritage model was designed to celebrate the enduring Peter Henderson brand. The boxwood mounts provide an ivory-like contrast with a beautiful natural material. The antiqued nickel mounts show off a vintage-style Thistle design. And the sound is pure Peter Henderson. Rooted in tradition, these bagpipes are crafted by the experienced pipe-makers at R.G. Hardie, which has ties to the original Peter Henderson Ltd, established in the 19th century. Each instrument has a unique serial number on the bass stock. Peter Henderson Heritage bagpipes are also played by top soloists and in Field Marshal Montgomery Pipe Band.

Watch the video to hear Peter Henderson pipes with our standard setup:

Performed on a PH2 model.

Why Choose Henderson's?

You'll receive a ready-to-play bagpipe, built to support your success. We include a complete modern set up with special touches, like a premium bag cover with zipper access and a crisp-looking end closure. We'll make sure your bagpipe fits you, professionally install the components you choose, and play the finished instrument to ensure you're delighted. It's all part of our 

Bagpipe Promise and Inspection Checklist

. Have questions? We're here to help!

Shepherd S2 African Blackwood Bagpipes

The Shepherd S2 is simple and classic, with a nice mix of imitation ivory and nickel mounts. The Shepherd Poly chanter is known for its reliability, and Shepherd bagpipes come standard with Shepherd Tone Enhancers, for sharper strike-ins and stable drones.

Why Choose Henderson's?

You'll receive a ready-to-play bagpipe, built to support your success. We include a complete modern set up with special touches, like a premium bag cover with zipper access and a crisp-looking end closure. We'll make sure your bagpipe fits you, professionally install the components you choose, and play the finished instrument to ensure you're delighted. It's all part of our 

Bagpipe Promise and Inspection Checklist

. Have questions? We're here to help!

On this set, real nickel ferrules, slides, and ring caps are engraved with the Dot Knot pattern. The pattern has an elegant look, but is also the basis for the Red Hot Chilli Pipers sets, making it fresh and widely appealing. The imitation ivory projecting mounts have a marbled appearance, while the bulb on the mouthpiece has a solid tone. A multi-step finishing process gives Wallace bagpipes a beautiful luster. Each set of Wallace pipes is about 95% hand-crafted and has a unique serial number. Made in Scotland.

You'll receive a ready-to-play bagpipe, built to support your success. We include a complete modern set up with special touches, like a premium bag cover with zipper access and a crisp-looking end closure. We'll make sure your bagpipe fits you, professionally install the components you choose, and play the finished instrument to ensure you're delighted. It's all part of our 

Bagpipe Promise and Inspection Checklist

. Have questions? We're here to help!

On this set, real nickel ferrules, slides, and ring caps are engraved with the Dot Knot pattern. The pattern has an elegant look, but is also the basis for the Red Hot Chilli Pipers sets, making it fresh and widely appealing. Blackwood mounts add contemporary style. A multi-step finishing process gives Wallace bagpipes a beautiful luster. Each set of Wallace pipes is about 95% hand-crafted and has a unique serial number. Made in Scotland.

You'll receive a ready-to-play bagpipe, built to support your success. We include a complete modern set up with special touches, like a premium bag cover with zipper access and a crisp-looking end closure. We'll make sure your bagpipe fits you, professionally install the components you choose, and play the finished instrument to ensure you're delighted. It's all part of our Bagpipe Promise and Inspection Checklist. Have questions? We're here to help!

The Hardie Poly bagpipe is a very reliable performance instrument, with good drone stability. Imitation ivory mounts make it a very durable bagpipe that's easy to keep looking great. We upgrade the sets we stock with an Adjusti-Stik adjustable blowpipe, so you get a comfortable custom fit. Another upgraded feature is an Infinity pipe chanter, which boasts slightly smaller, more comfortable holes. For many pipers, the smaller holes make their movements sound cleaner, and the sound is excellent, easily blended in a modern pipe band. The pipes are crafted in Glasgow, Scotland by RG Hardie, an enduring name in pipemaking.

Why Choose Henderson's?

You'll receive a ready-to-play bagpipe, built to support your success. We include a complete modern set up with special touches, like a premium bag cover with zipper access and a crisp-looking end closure. We'll make sure your bagpipe fits you, professionally install the components you choose, and play the finished instrument to ensure you're delighted. It's all part of our 

Bagpipe Promise and Inspection Checklist

. Have questions? We're here to help!

Weight
N/A
N/A
N/A
N/A
N/A
N/A
Dimensions
N/A
N/A
N/A
N/A
N/A
N/A
Additional information

| | |
| --- | --- |
| Brand | |
| Key | |
| Drone Material | |
| Drone Style | |
| Made In | |
| Smallpipe Type | |
| Drone Configuration | Bass, Baritone, and Tenor |

| | |
| --- | --- |
| Brand | |
| Material | |
| Metalwork | |
| Projecting Mount Material | |
| Projecting Mount Size | |
| Finish | |
| Ferrules | |
| Slides | |
| Ring Caps | |
| Pipe Chanter | |
| Blowpipe | |
| Bagpipe Warranty | |

| | |
| --- | --- |
| Brand | |
| Bagpipe Warranty | |
| Material | |
| Metalwork | |
| Projecting Mount Material | |
| Projecting Mount Size | |
| Made In | |
| Finish | |
| Ferrules | |
| Slides | |
| Ring Caps | |
| Pipe Chanter | |
| Blowpipe | |

| | |
| --- | --- |
| Brand | |
| Bagpipe Warranty | |
| Material | |
| Metalwork | |
| Projecting Mount Material | |
| Projecting Mount Size | |
| Made In | |
| Finish | |
| Ferrules | |
| Slides | |
| Ring Caps | |
| Pipe Chanter | |
| Blowpipe | |

| | |
| --- | --- |
| Brand | |
| Bagpipe Warranty | |
| Material | |
| Metalwork | |
| Projecting Mount Material | |
| Projecting Mount Size | |
| Made In | |
| Finish | |
| Ferrules | |
| Slides | |
| Ring Caps | |
| Pipe Chanter | |
| Blowpipe | |

| | |
| --- | --- |
| Brand | |
| Bagpipe Warranty | |
| Material | |
| Metalwork | |
| Projecting Mount Material | |
| Projecting Mount Size | |
| Made In | |
| Finish | |
| Ferrules | |
| Slides | |
| Ring Caps | |
| Pipe Chanter | |
| Blowpipe | |
In Stock now and ready to ship!
Gibson Ceilidh (Kay-Lee) Pipes in A – Poly
Brand: Gibson Bagpipes
SKU
:

KL3-POLY
Gibson Poly Ceilidh (Kay-Lee) Pipes in A 
Ceilidh pipes are known for great sound, trusted reliability, worry-free stability, and a fun playing experience. Add Poly durability, and this smallpipe is an easy choice for any player. The Ceilidh pipes have a traditional smallpipe design, with a tenor, a baritone, and a bass drone extending from a common stock. With all double-blade plastic reeds, this instrument does not need moisture control, keeping the system stable and simple. The drones are positioned across the piper's front. Made in the U.S.A.
Features of the Gibson Poly Ceilidh Pipes:
Full sound, pleasant volume
Key of A
Poly drones (bass, baritone, tenor)
Poly chanter
Brass accents on the drones
Poly blowpipe
Synthetic pipe bag (one size fits all)
Reliable plastic reed set
All double-blade, practice chanter style reeds
No moisture control required
Bag cover (color supplied by Gibson)
Save to Compare