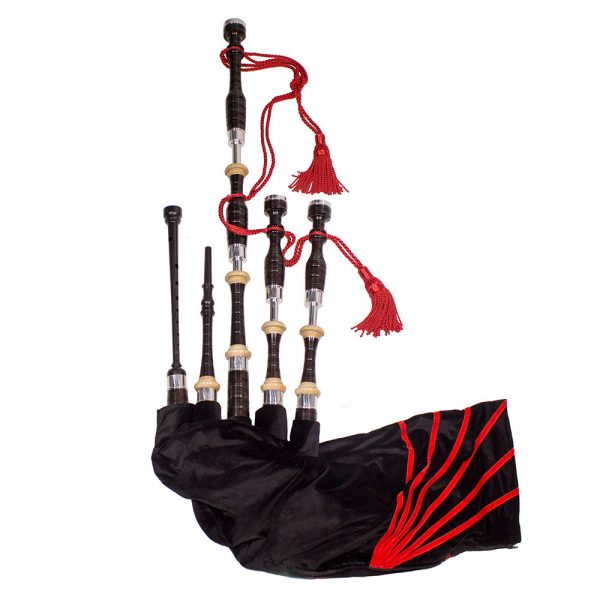 Product Details
| | |
| --- | --- |
| Brand | |
| Bagpipe Warranty | |
| Material | |
| Metalwork | |
| Projecting Mount Material | |
| Projecting Mount Size | |
| Made In | |
| Finish | |
| Ferrules | |
| Slides | |
| Ring Caps | |
| Pipe Chanter | |
| Blowpipe | |
Save to Compare
In Stock now and ready to ship!
MacLellan Artisan Classic with Hard Maple & Aluminum
Brand: MacLellan Bagpipes
SKU
:

RMB-OR2
Special touches on this bagpipe make it stand out, from the distinctive Original MacLellan drone silhouette to the Hard Maple projecting mounts. The slides are aluminum alloy as well as the beaded ferrules and ring caps. Roddy MacLellan is a talented artisan located in North Carolina. Limited production, distinctive styles, and pride of craftsmanship at every step set MacLellan bagpipes apart.
MacLellan Artisan Classic with Hard Maple Mounts & Engraving:
Blackwood instrument
Original profile rounded drone contours
Hard Maple projecting mounts
Beaded Aluminum alloy ferrules and ring caps
Aluminum alloy slides
Brass-lined Blackwood blowpipe
MacLellan Delrin solo pipe chanter
Why Choose Henderson's?
You'll receive a ready-to-play bagpipe, built to support your success. We include a complete modern set up with special touches, like a premium bag cover with zipper access and a crisp-looking end closure. We'll make sure your bagpipe fits you, professionally install the components you choose, and play the finished instrument to ensure you're delighted. It's all part of our Bagpipe Promise and Inspection Checklist. Have questions? We're here to help!
Save to Compare